Temperature Sensors for Semiconductors & Vacuum Devices
TEMPERATURE SENSORS FOR SEMICONDUCTOR & VACUUM DEVICE
Features
The temperature sensors for semiconductor manufacturing devices are temperature sensors of high importance, which are used to manage temperature for various semiconductor manufacturing processes. We can supply products which respond to various needs such as profile temperature sensors for diffusion furnaces, other temperature sensors for 1000°C or higher temperature, and sensors for clean room temperature control. The sensors are sealed with commercial vacuum flanges and O-rings and the sheathed thermocouples are sealed with silver soldering so that they can be used inside vacuum devices. They can support the He leakage testing according to the required vacuum degrees.
Profile Thermocouples for Diffusion Furnaces
They are manufactured in a controlled dedicated clean room. A temperature calibration system dedicated to the profile temperature sensor is prepared.
Various Sheathed Thermocouples for Vacuum Devices
φ0.5 Sheathed Thermocouples with ICF34 Vacuum Flanges
It is optimum when response speed is important. When a faster response is required, we can apply joggling so that the minimum outer diameter of the tip will be φ0.15.
φ1.6 Sheathed Thermocouples with ICF34 Vacuum Flanges
This is the specification that is generally applied. They can be used for up to 650°C (as for type K thermocouples). H2300 cannot be used in high temperatures since aluminum is volatilized in a vacuum. Selecting (HOSKINS 2300) allows using the thermocouples up to at 1,200°C.
φ1.0 2-pair Type Sheathed Thermocouples with ICF34 Vacuum Flanges
The combination of two sheathed thermocouples or more with a vacuum flange is also available. You can select various sheath materials such as ones for high temperature and for corrosion resistance. Please contact us for further information.
Φ1.0 Sheathed Thermocouples with Penetration Sleeves (O-ring)
This is the specification that is generally applied. They can be used for up to at 650°C (as for type K thermocouples). We can support the sheath materials and the outer diameter of the thermocouple's penetrated part into a flange if requested.
Accessories and Other Options
ICF (Conflat) Flanges
φ34 ICF Flange Appearance Outline
The φ34 ICF flanges are used for penetration of sheathed thermocouples, other temperature sensors, and small parts. Since they have small outer diameters, it is easy to install them onto vacuum devices. We have larger sizes of φ70, φ114, etc. for penetration with other objects.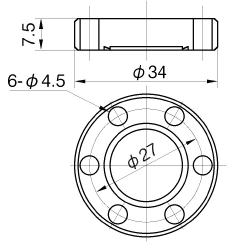 Ultra-Torr (Swagelok) Joints
They are simple joints to seal sheathed thermocouple, connected with taper screws (NPT). We have a welded type. An O-ring is attached inside for sealing. The bored-through (BT) type connctors must be selected.
Air-tight Terminals
We have the type of the sensors whose air-tight terminal is attached to the terminal of a sheathed thermocouple, and the whole sensor can be installed inside the vacuum device.
We can manufacturer the products which follow other specifications in addition to the ones we have introduced here. Please consult our sales offices/branches.
Catalog
Product Catalog
Catalog of Temperature Sensors for Semiconductors & Vacuum Devices
Catalog No.: OMC-0010
Inquiries