Protection Tubes for Temperature Sensors
Protection tubes for temperature sensors are used to protect temperature sensors from high-pressure, corrosion, high temperature, and other environments in various processes in various plants. Normally, the type called THERMOWELL can be attached to a piping line and others independently from temperature sensors. For each field, the design specification depends on the following destinations.
Types and Features of Metal Protection Tube Materials
JIS code/product name in ( ) under type
Chemical composition (%)

Normal Operation


Temperature Limit(℃)※1
Features
Soft steel
STPG
0.25〜0.3C
0.3〜1.0Mn
Remaining Fe
600
It is used for non-corrosive fluid because of its weakness in an oxidizing atmosphere. It is used after corrosion resistance increases due to surface processing with glass, resin, etc.
Alloy steel forged steel for high temperature/pressure containers
SFVAF22
2.25Cr-1Mo-Fe(c≦0.15)
600
Low carbon alloy steel having good corrosion resistance at a high temperature with MoCr added. Attention must be paid to the welding material at the high pressure part.
Austenitic stainless steel
304SS(SUS304)
18Cr-8Ni-Fe
900
Used the most widely as stainless steel. For food facilities, general chemicals facilities, atomic power, etc.
304LSS(SUS304L)
18Cr-9Ni- low C-Fe
800
304 low carbon steel The one with increased grain-boundary corrosion resistance.
310S SS(SUS310S)
25Cr-20Ni-Fe
1000
Excellent at oxidizing resistance, used as heat resistant steel. Weak against sulfides.
316SS(SUS316)
18Cr-12Ni-2.5Mo-Fe
900
Corrosion resistance for sea water and other various media better than 304. Pitting corrosion resistant material.
321SS(SUS321)
18Cr-9Ni-Ti-Fe
900
Improved grain-boundary corrosion resistance with Ti added.
347SS(SUS347)
18Cr-9-NiNb-Fe
900
Improved grain-boundary corrosion resistance with Nb added.
253MA
21Cr-11Ni-1.7Si-Fe
1150
Excellent corrosion resistance at high temperature. High strength at high temperature.
Ferritic heat resistant steel
4C54(SANDVIKP4)(SUH446)
25Cr-0.2N-0.2C
1000
Strong against high temperature corrosion and no generation of scales easily peeled off up to 1,082℃. Excellent at sulfur resistance.
Corrosion/heat-resistant superalloy
INCONEL600(NCF600)
15.5Cr-72Ni-7Fe
1050
Excellent iatcorrosion resistance in an oxidizing/reducing atmosphere at high temperature. Excellent at carburizing/nitriding resistance.
INCOLOY-800H(NCF800H)
20.5Cr-32Ni-44.5Fe-Ti-AL-Cu
1000
Carburizing resistance and strong resistance against internal oxidizing. Stable austenitic organization and good corrosion resistance. Especially, 800H has excellent high temperature strength and creep rupture strength.
MCALLOY
45Cr-1Mo-Ni
1000
Excellent at sulfur attack resistance and vanadium attack resistance.
Ni based heat/corrosion resistant alloy
HASTELLOY-
C276
15Cr-52Ni-16Mo-
5.5Fe-4W
1000
Product name is HASTELLOY-C276. Excellent at corrosion resistance against acid and mixed acid in a oxidizing/reducing atmosphere.
HASTELLOY-X
22Cr-48Ni-9Mo-
18Fe-1.5CO-0.6W
1150
Product name is HASTELLOY-X. Representative heat-resistant alloy. The strength and acid resistance are retained even at 1,090℃.
Co based heat/corrosion resistant alloy
UMCO50
28Cr-21Fe-1Si-50Co
1150
Product name is UMCO50. Excellent at heat/impact resistance and for wear resistant material, sulfides and vanadium. Also excellent high temperature strength.
Titan
-
0.2Fe-Ti
250
Excellent at corrosion resistance especially sea water resistance in a low temperature zone.
Note
(1)

The normal temperatures described here are the maximum temperature when mechanical strength is not required for measurement such as temperature measurement in a furnace. If strength calculation is required, adopt the maximum temperature with allowable stress specified described in the High Pressure Gas Safety Act.

(2)

The normal use temperatures have been described referring to JIS and manufacturer's catalog; therefore, they are not guaranteed values.
Type and Feature of Protection Tube Surface Processing (Including Cover)
JIS code/product name in ( ) under type
Normal Operation
Temperature Limit(℃)※1
Features
Coating
Fluoride resin (PFA)
250
Chemical resistance is large, and for over 150℃, resistance of FEP or more is shown.
Ceramic(Al2O3)
1100

Excellent at wear/heat/corrosion resistance. Pay attention to the thermal expansion difference from materials.

Lining
Glass
250
STPG/SS400 used for the base. Excellent at acid resistance and poor in alkalinity.
Hardfacing
SF-6
(MSF Co1)
Depending on the Material
Excellent at corrosion/wear resistance. Also excellent at acid/alkali resistance.
Cover
Tantalum
350
Strong corrosion resistant against all acids. Poor against hydrofluoric acid and caustic soda.
Perfluoro ethylene propylene copolymer (FEP)
150
Having resistance in almost chemical resistance.
※1The temperature limit under normal operation were described referring to JIS and manufacturer's
catalog; therefore, they are not guaranteed values.
Specification by Purposes of Use
1.Hollowed-Out Protection Tube for Petrochemical/Gas Plants
Generally, hollowed-out protection tubes have flanges in many cases, and maintenance is easy. The 316 austenitic stainless steel is used as a material of protection tube in many cases, and various materials are used according to the purposes of use. TW20A type is equivalent.
2.Hollowed-Out Protection Tubes for Thermal Power Plants
When sensors are used in main steam lines, a screwed and welded type of protection tubes or a type of welded shell shape are used in many cases. Since they are exposed to a steam flow of high pressure/temperature/speed/density, they are thick and short to prevent breakage due to Karman vortex, etc. Types TW10D and TW10E are equivalent.
3.Protection Tubes for High Temperature for Incinerators
The one-body type with a temperature sensor is used in many cases. The internal thermocouple can be replaced. For high temperatures of 1,000℃ or higher, a ceramic protection tube is used. For usage as consumables, pipe type protection tubes are used in many cases.
Protection tubes/thermocouples for incinerators: Result of testing in actual incinerators
4.Sanitary Type Protection Tubes for Food/Medicines
To prevent fluid from sticking to a protection tube, buffing and electromagnetic polishing are applied to the surface of the protection tube. Protection tubes with a ferrule are used in many case, which can be attached/detached easily with a clump so that it can be cleaned easily.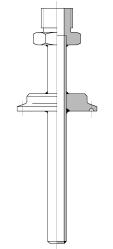 We design/manufacture protection tubes for temperature sensors in addition to the items above, responding customers' various needs. Especially for protection tubes allocated in piping lines, we calculate the strength according to the conditions of the use, judge usage availability, and for unavailability, determine various usable dimensions. Depending on the calculation results, we also design/manufacture protection tubes with spiral sticks for countermeasures against Karman vortex.

We calculate the strength of protection tubes according to ASME PTC 19.3-1974, the revised version of ASME PTC 19.3 TW-2016 (2010) or Japan Society of Mechanical Engineers, JSME S 012 for a fee. Also, we can submit calculation documents which comply with the High Pressure Gas Safety Act as well as the necessary certificates for inspections and materials.

Furthermore, we support various inspections required such as a pressure resistance inspection (water pressure: up to 49.03 MPa) and airtightness inspection (N2: up to 6.86 MPa), as well as X-ray inspection, enlarged X-ray photography (micro focus), and non-destructive inspections such as color check. Also, to check materials, we can perform a chemical element inspection with PMI testing apparatus. Representative product photos.
Basic Model
TW10A: Hollowed Out Protection Tube Screw Type
TW10D: Hollowed Out Protection Tube Screw Type with Lagging
TW10E: Hollowed Out Protection Tube Welding Type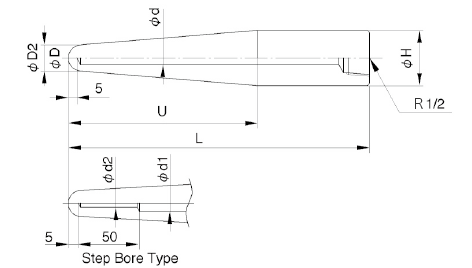 TW10F: Hollowed Out Protection Tube Screw Type Round Head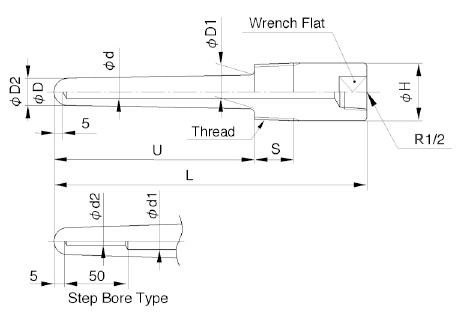 TW20A: Hollowed Out Protection Tube Flange Type
TW20B: Assembly Type Hollowed Out Protection Tube Flange Type
TW30A: Pipe Protection Tube Screw Type
TW40B: Pipe Protection Tube Flange Type
Catalog
Inquiry